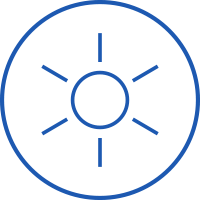 "An advice for those who want to take up with the profession: to be "curious", trying to learn things and make experiences not always directly related to the role played in that moment." Marco Aulisa, Head of Business Development
#SOLARPROFESSIONALS – MARCO AULISA'S IDENTIKIT
Here is the third interview of the new column "Solar Professionals" born in order to know the professions, but first and foremost, the people who are part of the EF Solare team. Through the words of the interviewees, of their stories, in identikit format, we would like to stimulate young professionals and reveal the commitment of those who are "behind the scenes" in this sector providing clean energy every day to the Country.
 MARCO AULISA'S IDENTIKIT, HEAD OF BUSINESS DEVELOPMENT
 Name, Surname, Role
"Marco Aulisa, Head of Business Development"
What the profession of manager of the Business Development is about?
 "The main aim is to obtain authorisations for the construction of new PV plants in Italy. To this end, the main activities concern:
– to build a network of external stakeholders able to provide opportunities and, sometimes, support the entire authorization process;
– to evaluate the possible projects, not only from an economic-financial perspective but also from a technical-legal viewpoint;
– to follow and coordinate the whole authorisation process and all internal and external stakeholders involved;
– to create the conditions necessary to obtain financing from banking institutions and to enter into long-term contracts for the sale of electricity (so-called PPA)."
What were the main steps in the acquisition of the Spanish operator Renovalia?
"In difficult operations it is complicated to identify single key steps.  Some of the most delicate and crucial were certainly the achievement of the MW construction pipeline target and the agreement on some fiscal guarantees".
What will be the challenges in your area for the coming months in EF Solare?
"To be able to finalize the many authorization procedures in progress, developed both directly as well as with the help of external partners."
 What course of study did you take?
"I graduated from high school. I then graduated in Economics and Business in Bologna, continuing my training in the same city with a Master Profingest in Business Administration. I then qualified as a chartered accountant in Bari."
What professional experience was the most impactful to you?
"Probably the first 6-7 years in Holding Fotovoltaica (the initial F2i startup in photovoltaics, which then, through different moments of growth and development, became EF Solare Italia) during which I had the role of CFO. It has been a proving but rewarding challenge. It allowed me to grow a lot on a professional level, giving me the opportunity to deal with all sort of situations and to contribute to the affirmation of the most important italian reality in the photovoltaic sector."
Any advice for those who want to take up with the profession?
"In my opinion, in order to succeed in this area is necessary to develop a set of attitudes and transversal competences ranging from finance to contract management, from technical knowledge to relational skills. Therefore, it is very important to be "curious", trying to learn things and make experiences not always directly related to the role played in that moment. Sometimes this implies a renouncement in terms of specialization compared to a particular function but allows you to move more easily in areas also very different between them."