 Everyday our team works to best express its skills and to make EF SOLARE ITALIA the unquestioned leader in the Italian photovoltaic sector.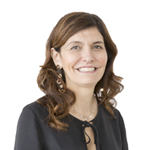 Vita Capria - Legal & Corporate Affairs
Vita Capria is the Head of Legal & Corporate Affairs of EF Solare Italia.
She holds a Jurisprudence Degree from the Libera Università Internazionale in the "Guido Carli" school of Social Sciences. From 2000 to 2011, she was a Senior Associate for the Chiomenti legal firm, where she specialized in M&A, Corporate Finance, Private Equity, Project Finance, Infrastructure, Energy, Real Estate and Commercial Agreements.
In 2011, she became head of the legal department for RTR Capital, the leading photovoltaic company funded by British private equity firm, Terra Firma. Here, she worked on important asset acquisitions in the photovoltaic utilities field, stemming from both national and international energy concerns.
As Chief Counsel for RTR, she was instrumental in the selling off of the entire RTR portfolio, equal to 334 MW of photovoltaic assets and covering all of Italy for the firm, F2i. After the purchase was finalized in 2018, she joined EF Solare Italia where she continues on in her current role.