 Everyday our team works to best express its skills and to make EF SOLARE ITALIA the unquestioned leader in the Italian photovoltaic sector.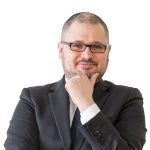 Ubaldo Zanetti - HR, Procurement and ICT
Ubaldo Zanetti is the Head of HR, Procurement and ICT
He graduated in Economics and Business Administration from the University of Studies in Genoa. He began his career in management consulting. He has played more roles facing the problems typical of different markets (retail market, banking market, energy market…). He has developed skills in the Organization, Human Resource, Audit and Compliance.
From 2010 to 2017 he worked for ERG S.p.A. where he played different roles in compliance, in the development of company's organization and in human resource.
In particular from 2010 to 2013 he was the Head of the implementation and manage of the Model provided for by L. 262/05 and in the same time he managed the efficiency gain of the accounting processes.
From 2013 to 2015 he worked in the Human Resource in particular in the development of company's organization and in the employees' enhancement.
Today in EF Solare Italia he works for the Human Resource's development and in the efficiency gain of Procurement and Information Technology.