 Everyday our team works to best express its skills and to make EF SOLARE ITALIA the unquestioned leader in the Italian photovoltaic sector.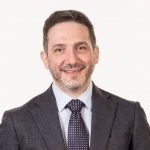 Roberto De Simone - Supply Chain & HSE
Roberto De Simone is EF Solare Italia Head of Supply Chain & HSE.
Graduated from the Politecnico of Milan in Electronic Engineering, he has worked in the energy efficiency and sustainability business for almost 30 years.
After a significant experience at Enel, where he was in charge of the power plant dispatch systems and the optimization of the national electricity transmission grid, he worked at Sondel and Edison, where he led a number of development projects for the acquisition of the power generation companies sold by Enel in 1999-2001.
From 2002 onwards he held several positions as business partner for Operations in Edipower first and then in A2A with increasing responsibilities.
As Energy Manager he developed and implemented an innovative business model and ensured the participation in the new Italian Power Exchange. As Environment, Safety and Quality Manager, he obtained the Integrated Environmental Authorizations for the entire power plant portfolio (more than 6 GW) and he developed the Safety Management System for workers and had it certified. As  Purchasing Manager, he rationalized, streamlined and dematerialized purchasing processes and he enhanced performance and services to the business.
In 2016 he joined Siram Veolia as Purchasing Manager. His main achievements include the digitalization of purchasing processes, the implementation of best practices and the migration of IT systems to cloud platforms.