 Everyday our team works to best express its skills and to make EF SOLARE ITALIA the unquestioned leader in the Italian photovoltaic sector.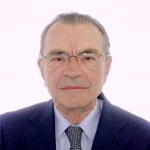 Paolo Duiella - Chairman
Paolo Duiella is the Chairman of EF Solare Italia.
While pursuing his studies at the Università degli Studi di Verona, he started working for the City of Trent in 1968, ultimately graduating with a degree in Business and Economics.
By 1997, Paolo had reached the role of CEO of the Trentino Institute for Residential Construction, and was soon named General Secretary of the Province of Trento from 1999 to 2009. In this capacity, he oversaw construction projects for the Province and its subsidiary finance companies, in particular those operating in the hydroelectric industry and responsible for distribution. At the same time, he held a number of prestigious management positions in various public concerns.
After his retirement in 2009, he became Chairman, followed by CEO, and once again Chairman of the Autostrada del Brennero – Brenner Pass Highway Authority where he worked until May, 2016.