 Everyday our team works to best express its skills and to make EF SOLARE ITALIA the unquestioned leader in the Italian photovoltaic sector.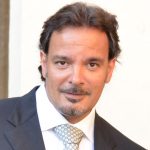 Marco Spescha - HSE
Marco Spescha has been appointed Head of Health Safety & Environment of EF Solare Italia on February 2020.
He graduated in Mechanical Engineering from the University "La Sapienza" in Rome. He served in the industrial sector from 1998 to 2013, working in 24h production plants with managing positions in operating departments, such as Plant Technical Manager in Semikron Italia SpA and Maintenance & Engineering Manager in Deluxe Italia SpA.
In 2013 he has joined Holding Fotovoltaica, serving as Production Manager, managing the performance and technical issues of the plants.
In 2017 he has been appointed Head of the Engineering Department of EF Solare Italia, managing the technical consulting and enhancement of the plants, the reports on the performance, working on special projects, managing the supplies of spare parts and the waste disposal.
In 2019 he joins EF Solare Innovation & Technology Department, working on the revamping and improvement of efficiency of the plants.
In his career his experience ranged from asset and technological plants maintenance, to planning, Health & Safety, fire prevention services, waste disposal.