 Everyday our team works to best express its skills and to make EF SOLARE ITALIA the unquestioned leader in the Italian photovoltaic sector.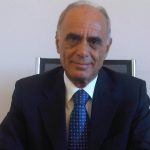 Giuseppe Noviello - Vice Chairman
Giuseppe Noviello is the Vice Chairman of EF Solare Italia.
With a degree in both Metallurgic and Aereospace Engineering, he was hired by the ENEL Italian utilities concern in 1970, where he spent most of his career in various roles, including Managing Director of their real estate company, Immobiliare & Servizi, Human Resources Director for IT, and CEO of Conphoebus.
Noviello lent his expertise as an adjunct professor, something he continues even today with the University of Rome – La Sapienza as well as the University of Cassino.
Some of the prestigious positions Noviello has held in his field include: Chairman of Previndai, CEO of Resorse per Roma (Resources for Rome) and E2i Energie Speciali and Sea Energia. He sat on the boards of AEE/AEIT, ISES administration and as a Science Education Counselor for the Master's Program for Energy Efficiency and Renewables at the Sapienza University. He has had leadership roles in various associations across the sector having ties to both ENEL and Federmanager – Management Federation.