 Everyday our team works to best express its skills and to make EF SOLARE ITALIA the unquestioned leader in the Italian photovoltaic sector.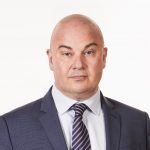 Gian Luca Teodori - Operations
Gian Luca Teodori is Head of Operations at EF Solare Italia.
He graduated in Electrical Engineering at "La Sapienza" University of Rome.
He started his professional career in industrial shipbuilding dealing with project management and execution.
After several years of construction sites in Italy and abroad, in 2006 he started his first experience in the renewable energy sector, dealing with the construction and maintenance of the plants installed in Italy for Gamesa.
In 2008 he joined International Power as Operation & Maintenance Manager of the Italian asset of more than 500MW of wind power plants. Following a series of acquisitions in 2013 he joined ERG and in this context as Maintenance Manager, he was in charge of the project of internalization of maintenance services of the entire Italian wind power portfolio of 1095MW.
In 2018 he was nominated Country Manager Italy and he was assigned, in addition to the wind assets, 140MW of photovoltaic plants. In this role, ERG's Country Italy has achieved important results of operating models based on continuous improvement and predictive approach to asset operation.