 Everyday our team works to best express its skills and to make EF SOLARE ITALIA the unquestioned leader in the Italian photovoltaic sector.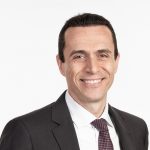 Andrea Ghiselli - CEO
Andrea Ghiselli is Chief Executive Officer and General Manager of EF Solare Italia.
He graduated in Economics and in Statistics from the University of Bologna, as well as an MBA obtained while attending INSEAD.
He started his career in strategic consulting working at McKinsey and dealing with issues related to business development and operations in different sectors (banking, retail, aerospace & defence, energy and automotive). Over the years spent in McKinsey, he has progressively focused on infrastructure sectors and in particular on energy and transport.
In 2009 he joined A2A as Director of Business Support Solutions, with responsibility for Procurement, Supply Chain and ICT, and assumed the role of Chief Executive Officer of A2A Logistics. In this context he has led programs and transversal interventions focused on organizational integration and improvement of the effectiveness and efficiency of business operations.
In 2016 he entered the transport sector working in SEA Milan Airports as Director of Supply Chain, ICT and Innovation. In this context he contributed to the program to relaunch the airport infrastructure of Malpensa and Linate.