 Everyday our team works to best express its skills and to make EF SOLARE ITALIA the unquestioned leader in the Italian photovoltaic sector.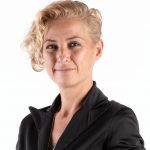 Pamela Santolamazza - Management Assistant & General Services
Pamela Santolamazza is the Head of General Services.
In 2000 she began her career as a secretary in Bain & Company.
In 2008 she entered into the world of renewables, collaborating as the Office Manager of Green Utility S.p.A.. She developed organisational skills and she gained experience within the company structural and operational start-up.
She has collaborated with Holding Fotovoltaica S.p.A. since 2012. She followed the company in its start-up and in its organisational activities during the consolidation phase. She has been working side by side with the CEO.