 Everyday our team works to best express its skills and to make EF SOLARE ITALIA the unquestioned leader in the Italian photovoltaic sector.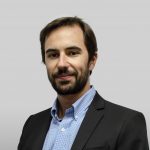 Martin Guzzetti - Innovation & Technology
Martin Guzzetti is the head of Innovation & Technology in EF Solare Italia.
He graduated in Telco Engineering from the Politecnico di Milano, and he has a master in Project Management from the same institute and one in Renewable Energy from the Hanze University of Applied Sciences of Groningen.
He started his career in 2010 within Odebrecht International in the Infrastructure & Transport sector, where he experienced important site and project engineer roles.
From 2016 to 2018 he worked with Green Giraffe, as a contracting and risk analysis consultant for main European operators within the Renewable Energy sector.
In 2018, he moved to BayWa r.e. Energy System Services, as a Senior Project Manager, where he leaded the construction division, being responsible for the execution of wind farms and pv plants.
Since March 2020 with EF Solare Italia, he manages the revamping and repowering activities on the existing plants, as well as new constructions, while pursuing the business technology development.
During his career, he has worked closely to the top management of noteworthy companies in the Infrastructure & Transport, and Renewable Energy sectors, being involved with projects analysis, construction management, company organization and operational enhancement.