 Everyday our team works to best express its skills and to make EF SOLARE ITALIA the unquestioned leader in the Italian photovoltaic sector.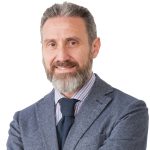 Marco Aulisa - Business Development
Marco Aulisa is the Head of Business Development.
He graduated in Economics and Business Administration from the University of Bologna. He began his career as business consultant. He has played this role for three years.
From 1999 to 2009 he worked in several industrial and service companies. He played important roles in the Administration and Finance Office such as Investor Relations Manager of Trevi Finanziaria Industriale S.p.A. and Head of Strategic Planning and Business Development in Sace S.p.A..
He was CFO of Holding Fotovoltaica S.p.A. from October 2009 to December 2015.
Throughout his career he has dealt with also corporate finance, extraordinary transactions, business reorganisation.