 Everyday our team works to best express its skills and to make EF SOLARE ITALIA the unquestioned leader in the Italian photovoltaic sector.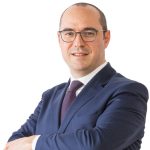 Lorenzo Petralito - CFO
Lorenzo Petralito is the CFO of EF Solare Italia.
A graduate of Milan's Bocconi Business School University, he started his career in 2005 as part of the Corporate Finance team for Capitalia (today, Unicredit Bank).
In 2007, he joined F2i, where he left his mark by perfecting a number of acquisition operations across the natural gas distribution, airport, telecoms and renewable energy sectors, first as an associate, and starting in 2010, as Investment Portfolio Director.