 Everyday our team works to best express its skills and to make EF SOLARE ITALIA the unquestioned leader in the Italian photovoltaic sector.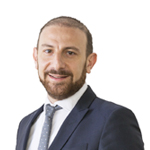 Francesco Pilla - Asset & Energy Management
Francesco Pilla is the Head of Asset & Energy Management for EF Solare Italia.
He holds a degree in Electric Engineering from the Università degli Studi di Cassino, and in 2006 launched his career in the Energy field as Project Manager for Brulli Energia.
Since then, he has had a number of roles as a Project Manager for the Gruppo ErgyCapital, as well as worked as Technical Office Manager for Novenergia Italia – both companies active in the development, construction and operations of FER (biomethane) plants.
Pilla joined EF Solare Italia in 2013, and has been responsible for the technical and financial operations for installations, becoming Head of Asset Management in 2017. Some of the important projects he's worked on include nationwide electricity networks and large scale FER plants. He has also streamlined operations procedures, planning and budgeting, and carried out due diligence and acquisitions for the company.
Today, as Head of Asset & Energy Management, Pilla is responsible for both technical and administration of installations, he oversees stakeholder relationships along with G.S.E. and strategic operations surrounding Energy and Insurance management.