 Everyday our team works to best express its skills and to make EF SOLARE ITALIA the unquestioned leader in the Italian photovoltaic sector.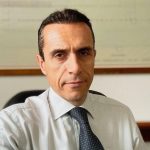 Andrea Ghiselli - ad interim Operations & Maintenance
Andrea Ghiselli is the CEO of EF Solare Italia – ad interim Head of Operations & Maintenance.
After a significant experience in strategic consulting at McKinsey, has progressively focused his activity in the energy and transports infrastructure sectors working in A2A and in SEA Milan Airports. In these areas he has held roles as Director of Business Support Solutions and Director of Supply Chain, ICT and Innovation, leading crosscutting programs and interventions focused on improving operational effectiveness and efficiency and business processes. He also held the role of Director at A2A Logistics and Board of Directors member at Airport Handling.